Mother's Day is coming up on May 14th this year, which means that it's already time to start thinking about gift ideas for mom. If you're coming up blank on your shopping list, we've rounded up a dozen Mother's Day gifts that are perfect for elderly moms and grandmas who are enjoying their golden years, from adaptive clothing to mobility aids.
Heating Pad
Heating pads are ideal for soothing aches and pains, including arthritis flare-ups. They come in versatile rectangular shapes, as well as versions tailored to specific body parts such as the neck, shoulder, lower back and knees. Many of them also come with an auto-off feature that shuts off the heating pad after a couple of hours of use, which is perfect for seniors who can be forgetful about turning things off.
Weighted Blanket
Many people find that using a weighted blanket helps them to destress and also sleep better at night. If your mom doesn't already have a weighted blanket, consider getting her one to add to her blanket collection. Start her off with a lower weight, around 10% of her bodyweight, if she has never used one before.
Mobility Aid Accessories
If your elderly mom has to use a mobility aid, then she may benefit from accessories such as a walker organizer pouch or a wheelchair blanket in her favorite color or print. If there are grandkids in the family, it can be fun to ask them to decorate grandma's cane, walker or wheelchair with handmade decorations that she can admire whenever she uses her mobility aid.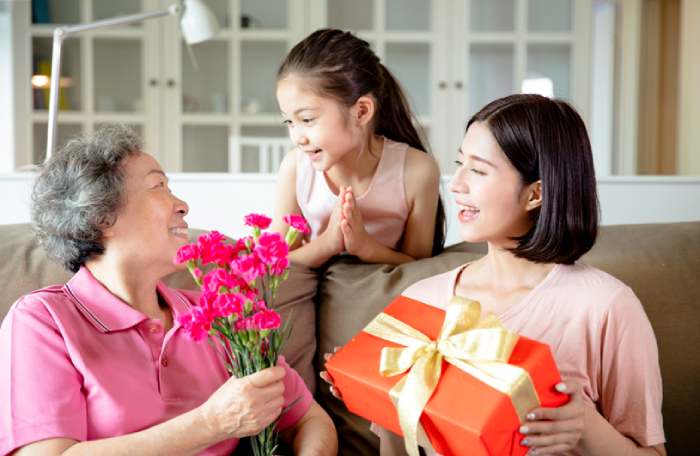 Arthritis Gadgets
Seniors suffering from arthritis can still maintain their independence with the help of home and auto aids, many of which are affordable and easy to install. Choose from a variety of gadgets, including automatic jar openers, easy-grip door knobs, reacher grabber tools, auto standing aids, seat swivel cushions, seat belt reachers and more depending on your mom's needs.
Adaptive Clothing
Speaking of maintaining independence, adaptive clothing is another gift that can help aging moms do just that. Adaptive clothing features unique innovations like magnetic closures, open-back designs, ports for medical devices and other touches that are tailored to seniors' needs. Adaptive clothing such as nightgowns for women and pull-on pants can help older adults continue to dress themselves even if their mobility isn't the same as it once was.
Non-Skid Slippers
Every older adult should wear non-skid slippers inside the house to give them better traction and prevent falls. We recommend choosing a style that comes with Velcro tabs that can be adjusted easily in case your mom's feet tend to swell during the day. Try to select a design and color that she will like so she'll be more encouraged to wear the slippers; if she's worried about them matching her outfit every day, opt for a plain design and a neutral color.

Custom Jewelry
If your mom loves accessories, consider getting her custom jewelry that is personalized with your birthstones, names, initials, handwriting or another personal touch. This is an especially great gift to commemorate all the kids or grandkids so that she can carry a reminder of them with her always. Be sure to pick out a piece that suits her personal taste and style so that she will wear it all the time!
Personalized Art
If you like the idea of a personalized gift, but your mom doesn't wear a lot of jewelry, consider personalized art instead. There are many different artists on Etsy and other platforms that can provide personalized art, everything from traditional water colors to graphic avatars. This is another gift that requires plenty of advance preparation, since artists need lead time for custom pieces, so contact them ASAP if this is of interest to you.
Custom Photo Puzzle
Combine two senior favorites, family photos and jigsaw puzzles, with a custom photo puzzle featuring your favorite picture(s). This will give your elderly mom something to do and ensure that she ends up with a keepsake item when she's done. If your mom isn't a fan of jigsaw puzzles, then consider getting her another custom photo gift like a printed blanket or water bottle for a truly unique gift.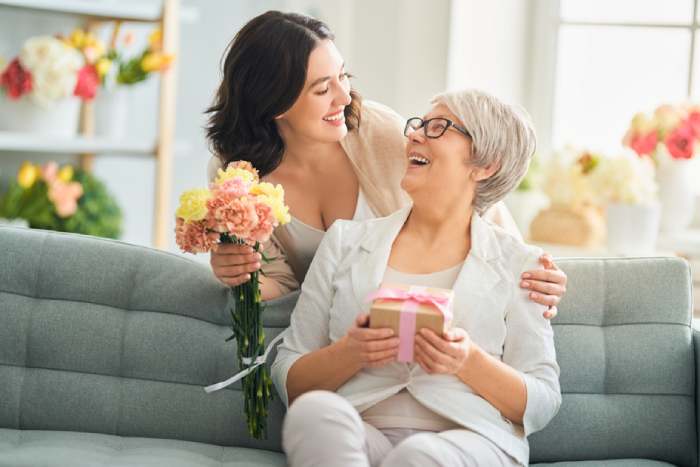 Digital Picture Frame
If your mom is a photo-taking fiend who never gets around to printing out hard copies, then she may enjoy a digital photo frame that allows her to view her photos without making a trip to the printer. If she's not super technology savvy, then you might have to help her figure out how to use the frame, but the result will be a gift that keeps on giving every day for many years to come.
Meal Delivery Service
Many seniors struggle to find the energy to grocery shop and cook every meal from scratch, leading them to fall back on microwave meals. If this is starting to happen for your mom, consider signing her up for a meal delivery service that delivers either meal kits or pre-cooked meals right to her door. This will take the stress of meal planning off of her shoulder and ensure that she has at least a couple non-microwave meals each week.
Quality Time
This might sound cheesy, but the best gift that you can give your mom really is intentional, quality time spent together. Plan a fun outing to one of her favorite places or events, or coordinate a special activity at home if she's not very mobile. Even just sitting around reminiscing and talking will be special for your mom and show her that the family will still make time in their busy schedule for her.
We hope this list inspired you to start Mother's Day shopping. What are your other favorite gift ideas for mom? Have you ever given a particularly memorable Mother's Day gift? Let us know in the comments below!